As of 9/18/23, 104 donors have helped us donate 5,327 meals!!
Donations delivered by our partner:
Out of stock
Every week, we deliver an assortment of meals to one or more of the community fridges around New York City. These community fridges are located in public spaces around the city and are available for anybody who is hungry and needs food.
In addition to the meals donated by our customers and community, NYC Cooking Club donates a meal for every 10 meals bought each week.
Please note: We are not a 501(c)(3)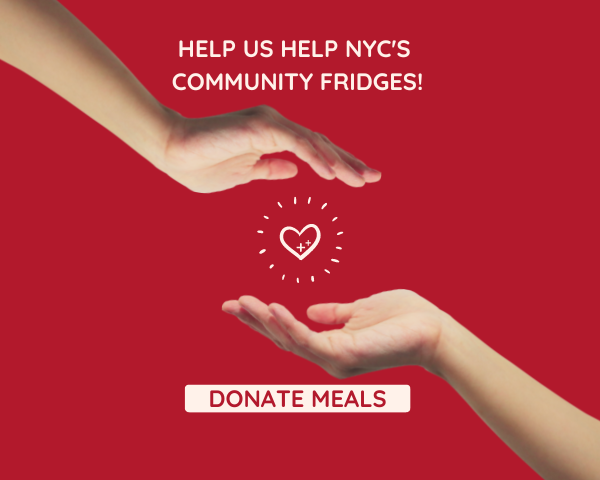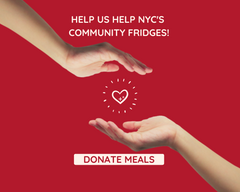 We're so grateful to everyone who has donated food to the fridges!
Aileen C, Alex G, Alison P, Allison B, Allison F, Amy J, Ana C,
Angela S, Anna M, Annie A, Barbara Jo, Becky R, Brett S, Carl M, Cathleen O, Christine B, Claire M, Dan J, Danielle H, Dave L, David C, David M, Denise D, Eddie J, Edwin V, Eleanor M, Elissa B, Emily M, Emily R, Emma C, Erica O, Georgy M, Gianna C, Happy M, Heidi T, Helene B, Hollis S, Itai S, Jake B, Jared L, Jillian M, Joe T, Joseph D, Joseph M, Josh F, Joyce D, Judy J, Julie H, Kadi R, Karen R, Kate F, Keely G, Kelly Jean F, Kevin M, Kirsten S, Laca T, Laura J, Linda P, Linda S, Lisa C, Madeline B, Margot R, Maria C, Mark G, Marsha A, Mary P, Marzena T, Matt S, Melanie L, Melissa H, Melissa S, Michael S, Mike W, Nancy F, Nathan G, Nicole C, Nicole J, Nicole W, Owen P, Pamela I, Randi Y, Raven, Roberta P, RoseAnn H, Rosemary F, Sandra S, Seth S, Shahnaz K, Shannon R, Sonya J, Stacey C, Stephanie H, Steve B, Susan R, Theresa F, Tracey D, Trevor L
Where we donate:
Chelsea Fridge
Cooper Park Community Fridge
East Village Neighbors Fridge
Greenpoint Community Fridge
Loisaida Community Fridge
Ravenswood Community Fridge
The Heights Friendly Fridge
The Fridge at the Fort
Music Hall Fridge
Brooklyn Heights Fridge
Harlem Commuity Fridge
Help USA in Hollis


(check out
this map
of dozens of community fridges around the city!
If you live near a fridge and would be willing and able to make donations for us if we send you the food, please contact us at info@nyccookingclub.com
Choosing a selection results in a full page refresh.
Opens in a new window.